Black Friday Freebies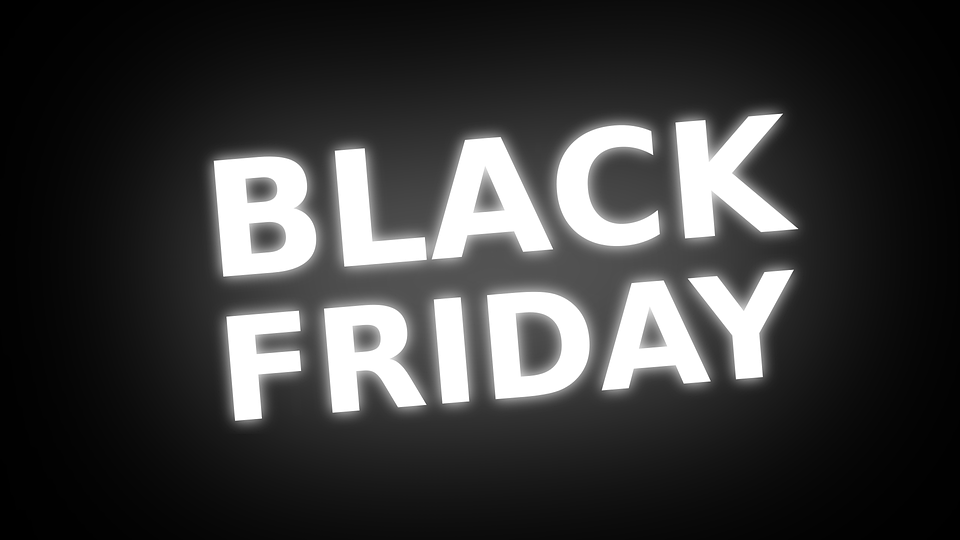 Find out everything you need to know about getting Black Friday Freebies. Black Friday is the day after Thanksgiving (traditionally). It's called "Black Friday" because it's the day when large corporations start operating in the black. Supposedly they operate at a loss (or in the red) for the whole year leading up to black Friday. In anticipation of Christmas and the winter holidays it's the biggest shopping day of the year, which is why marketing is at it's peak for retail. And wherever there is retail marketing, you'll find the word "free".
But within all the marketing and hype, is there anything that is really free? Yes, there are plenty of freebies on Black Friday that are actually free. In fact, there are two days of the year where you can literally go from place to place collecting freebies for hours. One of those days is your very own birthday, and the other is Black Friday.
When Black Friday Freebies Are Not Actually Free
One of the purposes of this site is to help you get past the gimmicks and learn information that can help you be a frugal shopper. Hunting for free stuff can be a fun hobby, but it can also help with your personal budget and finances. Black Friday is definitely a day where anyone can go overboard with their spending and one of the best ways to prevent that is to recognize when the word "free" in an ad is not actually free. Once you consciously recognize when "free" is not free, then it becomes easier not to let a sale or promotion persuade you into spending more. The idea is to spend less. Here are situations where Black Friday freebies are not actually free:
Free "with purchase"
Free gift card with purchase
Free with activation (usually cell phones)
Free after points or rewards
Buy one, get one free
Free software upgrades (not free if you don't have the previous software)
Black Friday Circulars are full of these offers. If you're looking for the true meaning of "free" then look past these. However, in many cases these deals can represent significant discounts and help your Christmas budget. Offers that are "free after rewards" can be especially good deals for stocking stuffers.
Also, many of these deals can be free if they are combined with offer offers. For example, if an office supply store offers $50-worth of products for free and software that is free after $50 rebate (which is actually free) then the combination of the rewards and the rebate gets you $100-worth of free stuff. You simply start by buying the products that are free after rewards first (which basically gives you store credit). Then you use the rewards to buy the software and claim the rebate.
Even more so, if the money you start with is free, then these offers can be used to stretch the dollar to get even more free stuff. For example, if you submit a few T-shirt designs to CafePress, then they'll give you a commission for any sales they make throughout the year. You don't have to do anything after submitting the design, they sell the products, process the orders, and pay your commissions. Even if you get commissions as small as $50, that can be stretched on Black Friday to get products worth $1,000 or more (I've done it). And it was all free because the money you started with was free. Besides submitting t-shirt designs to cafe press there are plenty of other ways to get free money.
Black Friday Freebies That Are Actually Free
The following deals are common on Black Friday and they are really free since they require no purchase or you get reimbursed.
Door Prizes
Sweepstakes & Drawings
Free food and activities
Coupons that say "$5 off $5 or more", or any increment from $5 to $100 or more
Free Gift Cards or mystery cards
Coupons for specific items
Free Samples
Free After Rebate
Door prizes can be coupons or actual prizes. For example a retailer might give away a stuffed animal or a stocking full of goodies.
Sweepstakes and drawings don't provide freebies for everybody, but those who won were not required to purchase anything. By definition a sweepstakes cannot charge any fees. Otherwise it's a lottery, which is illegal in most states unless organized by the state. Those who win could be set for life. Old Navy's annual black Friday sweekstakes is often for $1 million.
Free food and activities might include coffee, doughnuts, hot dogs, soda, crafts and activities with Santa. They're common at furniture warehouses and Bass Pro Shops.
Coupons that offer a whole dollar value off the total price, with a minimum purchase requirement, are actually free if the discount is the same as the minimum purchase and if you stick to that amount. For example, if a coupon says "$10 off a purchase of $10 or more" then any item that is exactly $10 is free. Usually sales tax is calculated after the discount so that's also free (0% of 0 is 0). This deal isn't always free, but even when it's not free it can represent a significant discount of 90% or more. It's definitely not free when there is nothing in the store available at the price of the minimum purchase requirement. This deal can often only be applied to a single item.
Free gift cards or mystery cards are often handed out to the first people in line. Some stores give out 50 cards, others give out 100. The cards are good for store credit at a whole dollar value. These are different from the coupons mentioned above because there is no minimum purchase requirement and it can be applied to multiple items. If you get a $5 gift card you can get anything in the store for $5. If you get the $100 gift card you can get multiple items totaling up to $100 or less.
Coupons for specific items are free when the coupon doesn't require any additional purchases. Harbor Freight Tools often has coupons like these for items like a screwdriver set and a flashlight.
Free Samples on Black Friday often include beauty samples at department stores, or if stockings are given out as a door prize it will contain free samples, coupons and other freebies.
Deals for free after rebate are the most common freebies offered by office and electronics stores. These are not always free, but sometimes they are, and when they're not it still represents a discount of 95% or more. With rebates you sometimes have to pay sales tax. This is avoided if buying items online from a state that is not the same state of operation as the retailer. For example, Newegg only operates in one state which is not Arizona, so customers in Arizona do not pay sales tax. With rebates you sometimes have to pay shipping when purchasing online, but often the shipping is also free. With rebates you often have to pay for postage, stamps and envelops to request the rebate. This can be avoided when "easy" rebates are claimed online. Read more about rebates.
Where Can I Find Free Stuff On Black Friday? How much is available for free?
Every year on this site we maintain a list of Black Friday Freebies. Here are some from previous years:
Black Friday Freebies 2016
Black Friday Freebies 2015
Black Friday Freebies 2014
Black Friday Freebies 2013
You're welcome to come to this site when approaching Black Friday every year to see what we discover. However, you can find even more freebies by hunting for them on your own. When you find something we don't have listed, please let us know.
The main resources where you can find Black Friday Freebies are pre-published circulars online and the newspaper. Websites that aggregate circulars online include BlackFriday.com and BFads.net. I often start searching through circulars online a couple weeks before Thanksgiving to get a good plan going. Then I purchase the newspaper (admittedly a small expense) the morning of Thanksgiving. The newspaper will have some coupons for freebies that aren't available anywhere else. It will also have circulars for local businesses that were not published online in advance. Quite often I find additional freebies offered by local stores.
How much is available for free? Well, if you win a sweepstakes it could be up to $1 million. Most people could get items that total $100 to $300 or more. An experienced freebie hunter could get free stuff worth over $1,000 or more. It would be less if you live in a rural area where there aren't many stores nearby. It will be more if you live next to some of the rarer stores like Fry's Electronics or Cabela's.
Black Friday Is No Longer Just On Friday
Over the last few years Black Friday has gradually extended to become Black Friday Weekend or even Black Friday week. Sometimes the Saturday and Sunday after Thanksgiving are called "Super Saturday" and "Super Sunday". The Monday after Thanksgiving is called "Cyber Monday" since it's the biggest shopping day online. Some retailers start sales as early as the Monday before Thanksgiving, although the better sales usually come later in the week towards Friday.
Unfortunately it's becoming more and more common for stores to open on Thanksgiving Day. Historically they opened at midnight, then they started opening at 5 or 6 pm and now they're starting to open at 3 pm or even all day. To all American retailers, we like the stuff you're selling on Black Friday weekend and we especially love the freebies, but we hate leaving Thanksgiving dinner to get it! Please lets go back to the way it was. American consumers, especially those with a budget to keep, have to get the best deals they can get. Yes we're buying when you open at 3 pm on Thanksgiving, but we don't like it. Please leave Thanksgiving alone as a day for families to give thanks.
To American consumers, do what you need to do the week of Black Friday, but if you favorite retailer is open on Thanksgiving, take the time to complain. Complain a lot and complain often.
Cyber Monday Freebies. Freebies All Week. Freebies All Month.
Since retailers are now trying to extend the Black Friday wave, you can potentially find freebies all week, and even the week beyond Black Friday leading up to Christmas. On the Wednesday before Thanksgiving the retailer New York & Company often has a mystery card giveaway to the first 100 customers in the store. Free door prizes are available from retailers who open on Thanksgiving day. Sometimes they offer a freebie on Thanksgiving day AND Black Friday. Some stores have drawings and prizes on Saturday and Sunday as well. Bass Pro Shops has prizes, drawings, free arcade games, crafts and photos with Santa for the entire month of December. There are also at least two other Super Saturdays. One Super Saturday is two or possibly three Saturdays before Christmas when multiple retailers put everything on sale for up to 70% off. The other Super Saturday is the Saturday before Christmas when everyone is rushing to complete their last-minute shopping. On any given year its possible that the Super Saturdays will overlap and the 70% off sales will be on the Saturday before Christmas.
Once you're looking beyond Black Friday for holiday freebies the weekly circulars are not necessarily the main source to look, although freebies may still be found there. You may also get freebies by direct mail or retailers might post freebies on social media or send them to email subscribers.
Other than Black Friday, one of the best days to get freebies during the holidays is Cyber Monday. However there aren't as many and they're often not as good as the freebies you can get on Black Friday. Most often the freebies on Cyber Monday are free after rebate deals for computer software. Here are some post from previous years:
Cyber Monday Freebies 2016
Cyber Monday Freebies 2015
Cyber Monday Freebies 2014
Cyber Monday Freebies 2013
Advanced Black Friday Tips
The best way to maximize your freebies, deals and discounts on Black Friday is to be prepared and have a plan. Start researching the circulars a couple weeks before. Check every page of each circular since the best deal is not always on the first page. If you live close to a Fry's Electronics, then be sure to join their email list for promo codes. For the deals where you have to be one of the first customers in the store or in line, then expect to be there at least a half hour before they open, maybe a little earlier if you can. If the freebies you absolutely want are at Cabela's then you'll have to get in line much, much earlier. Also, be safe on Black Friday weekend and be courteous to others. It's kind of ridiculous how some of the crowds get.
When I'm searching through the circulars I start to create a list of every store that I might go to in the order they open. I include all freebies that I can possibly get plus my other Christmas shopping. If there is any overlap, then I try to buy what I can online for my Christmas shopping the Wednesday before Thanksgiving or the morning of Thanksgiving. This makes my in-store shopping more flexible. Here is a sample schedule, it's not exact from any particular year, but it's close enough for demonstration.
Wednesday Before Thanksgiving:
New York & Company, 8 am, mystery gift card
Thanksgiving Day
Thanksgiving morning buy newspaper, review for additional freebies. Possibly buy two papers if there is a coupon that both my wife and I can use.
Thanksgiving "Dinner" at lunch time.
JC Penney, 3 pm, door prizes and $10 off $10 coupons, save coupons for later since they're good until the end of Black Friday.
Walmart, 4 pm, items for wife and kids, see if someone can come stand in line for me while I collect all the Black Friday deals, buy what I can online earlier, possibly skip this one or go later to see what is left over.
Old Navy, 5 pm, sweepstakes entry code for $1 million, clothes items for wife, kids and family
Toys R Us, door prize one year that had good stocking stuffers, items for kids, buy what I can online earlier, skip this one if I can buy what I need online.
Macy's, 8 pm, Free after rebate offer
Fry's Electronics, Thursday Evening promo code and free after rebate offers
Target and possibly other stores, items for family, get as much done as possible, possibly get to bed by 1-2 am.
Black Friday
Staples, 6 am, free paper after rebate
Fry's Electronics, 8 am, Friday promo codes and free after rebate offers
JC Penney, return with wife to use coupons from the day before, have wife pick items I can't pick (she's just better at some things)
CVS, free after rewards offers for stocking stuffers, may also consider Walgreens
Stein Mart, free coupon from circular, wife and I both use one since it's "one per person".
Possibly swing by furniture store to get free hot dogs and sodas for lunch.
Finish all other remaining shopping (I often finish everything Black Friday weekend and don't worry about other shopping for the rest of December, except to collect other freebies when they're available)
Saturday
Bass Pro Shops, 10 am, door prizes, take kids for free crafts, activities and picture with Santa
With a good plan you can use your time effectively, be where you need to be to collect free stuff and make it through the mad rush. You'll notice that in this particular plan I have to skip out on Thanksgiving while my wife joins me later. You'll have to make a plan that fits your personal situation. The point is simply to make one.